WE NEED YOU! Please rally in! See details below, this is going to be the biggest car show of the season! All we ask is for toys! Trying to raise 50,000 toys! Thank you!
Dustin Troyan
Motor4toys
Supercar Sunday
Dustin@connectedmediagroup.com
818-516-5053
We're Gearing Up for the 8th Annual Motor4Toys Charitable Car Show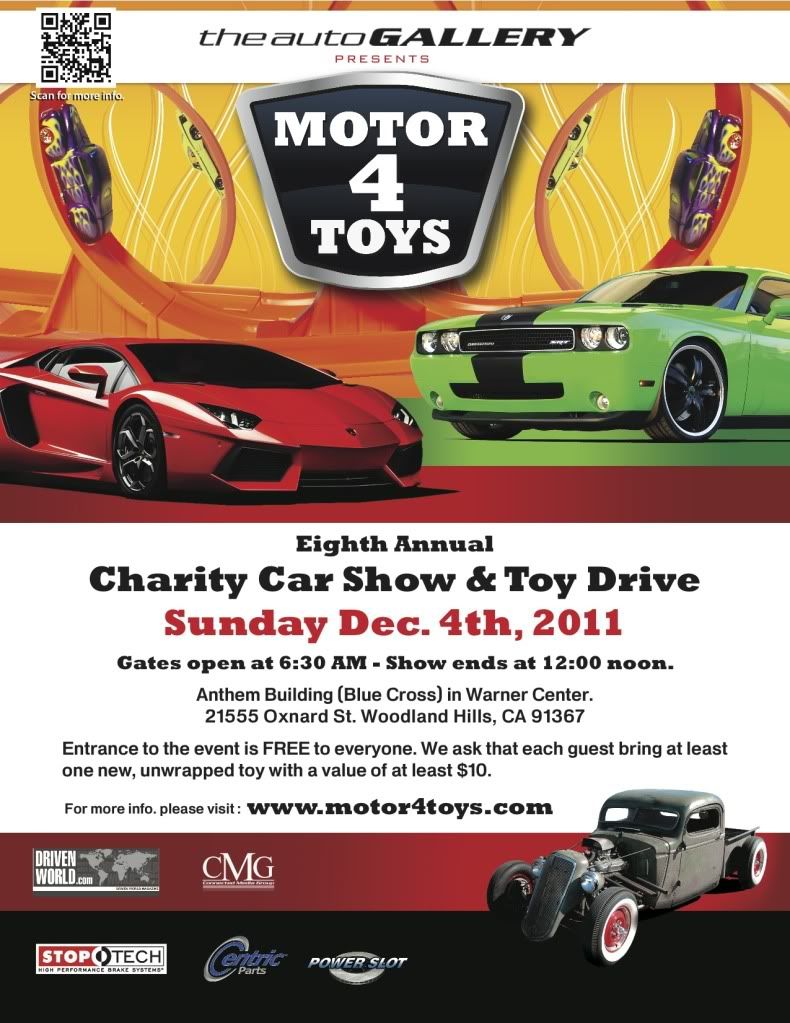 The 8th Annual Motor4toys Charity Car Show is Presented by:
THE AUTO GALLERY!
Platinum Sponsor: Coastline Motorsport
Supporting Sponsors include:
-Anthem
-Centric Parts
-Stoptech
-Powerslot
-Driven World
-Connected Media Group
-Village Coffee Roaster
-Lavaggio-The Art of Auto Detailing
-Century Tow
-World Class Motoring
-Bavarian Workshop
-Auto Trixx
-Supercharger Connection
-World Class Motoring
-Avus AutoSports
-AEM Performance Induction
-California Car Cover
-More to come!
RSVP:
Acura:
1. Ken- NSX
2. Andy-NSX
Audi:
1. Michael: R8
Avanti:
1. Mark 1963 & 2007
BMW
1. Ian- Lorinser BMW
2. Angie- 2002 E320
3. Spencer- M3
4. George-M6 HG Motorsports
British:
1. Harold- MGB GT
2. Greg- Rolls Royce Silver Shadow
3. Michael- Range Rover Sport
Buick:
1. Rich- Grand National
Classics/Muscle Cars/Hot Rods:
1. Dustin 1968 Camaro Pro-Touring
2. Heather- 1969 Fastback
3. Al- 1963 Caddy Convert
4. Jeff- Caddy Convert- Coastline Motosports
5. Dan 1963 Sport Fury
6. John-1962 Dodge D100
7. Doug 1968 Fastback
8. Rich: 1967 Fastback
9.Martin: 1957 T-Bird
10. ken 1932 Ford 3 Window
11.. Gilbert: 67 Buick
12. Felipe- Turbo Charged Camaro
13. Jerry and Cathey- 1965 Cobra
14. Bill 1931 Ford Coupe
Chevy:
1. Raymond: Cobalt
2. Michael- Z06 Zrod
3. Mike: Cobalt
4.David-Vette
7. Joel-Z06
Ferrari:
1. Jon- Scuderia
2. Monte- 355 Spider- Santa Barbara Cars and Coffee Group
3. Jeff- 348 spider
4. Enrique- 360 Stradale Spider
5. Haig - Testarossa
6. Greg - 355 Berlinetta - SB Cars & Coffee Group
7. Jim - 360 Modena
8. Steve-430 Spider
9. Jim –360
10.Anthony F430- FCA
11.Enrique- 360 Spider
Honda
1. Michael- S2000CR
2. Justin- Civic
Hyundai:
1. Peter: coupe
Lotus:
1. Joesph- Lotus Eruopa
Mercedes:
1. Adam: SLS ROADSTER
2. Mark E500 Sport
Mini:
1. Kit: Mini
2 Kelly: Mini
Mitsibushi:
1. Darin- 3000GT NORCA/SCAL3s
Mustang:
01. Robert (Cobra Drifter)
02. Brandon (MenesGT)
03. Daniel (BodyInkMustang)
04. Chris (BLUE GT9)
05. Timmy (09CS)
06. Daniel (BluesoulStang)
07. Sal (newage5.0)
08. Miguel (35th6er)
09. Erik (The Commander)
10. Jed (JiveFive0)
11. Lorin: Mustang
12. Aron: S281 Mustang
13. Charles: Mustang Shelby GT 500
14. Brandon: GT
15. Javier: GT
16. Tim: GT/CS
17. Daniel: Gt
18. Rick: Shelby 427 SC
19. Miguel: GT
20. Patrick 2007 Shebly Gt500
21. Jack- Mustang
Nissan:
1. Matt- 370z
2. Steven-350z
Porsche:
1. Steve: Carrera GT
2.Tony: Carrera 4s
3. John 1964 356
4. Tom 997 Porsche
5. Jim 57 Speedster
Saturn:
1. Fortunato- Sky Redline
Toyota:
1. Peter- Toyota Yaris Team Rare JDM
2. Shant; Supra
Triumph:
1. Rebecca: 1957 TR3
VW:
1. Mark: 1971 Squareback
2. Tom: VW CC- GTI
Clubs:
MOVIE Cars: 20
Socal Mini Maniacs 30-50 cars
Gm Eternal: 40-50 cars
Santa Barbara Porsche Club: 40-50
Ferrari Club of America South West Region: 40-50
Ferrari Owners Club: 40-50
Trufiber Mustangs: 40-50
Redline Corvettes: 50
Classic Chevy Club: 50
SDCE(San Diego Car Enthusiasts) car club 120
Ventura 4x4 Jeep Club
Other:
1. Century Tow: F650 Truck[/quote][/quote]