01-05-2019, 10:27 AM
Almost Senior Member

Southwest VTCoA Regional Member

Join Date: Jan 2010

Location: The "Crazy" Far East part of Mesa, AZ

Posts: 951

Member #11268
AND it has the B&B exhaust!! Look for and watch his you tube video's of the truck. The sound is flat out the best you will have on the V10 engine. That inspired me to get the full 3" manifold back B&B. The outstanding power UNDER peak matches the top end rush once "tuned".
Match that with a TB, stock intake with K&N, under-drive pulley, fresh plugs, poly bushings on the suspension including the rear leafs and fresh Pirelli tires and the truck will punch you in the face!!
Cheers!
__________________
2005 Black RC Born on April, 22nd., 16th hour of 2005: BBK, JTSVP Gen II Shifter, JTSVP Under Drive Pulley, K&N Drop-In, Demon Coils, B&B Manifold Back Exhaust w/ Hi flow Cats, SCT Tuned by Torrie, RX Monster Catch Can, JMB QA1 "kicker" shock, Polyurethane Suspension / Sway bar Bushings, AEM Wideband, Raptor Shift Light, Dynamat Interior, JTSVP Oil Cooler lines, 70/30 DiH2O/Dexcool Mix w/ Water Wetter, ALL fluids Synthetic and a few "sneaky" aero mods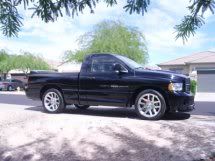 2000 ZX1270R, 200 H.P. / 111 Ft. Lbs.