08-21-2018, 10:17 AM
Almost Senior Member

Southwest VTCoA Regional Member

Join Date: Jan 2010

Location: The "Crazy" Far East part of Mesa, AZ

Posts: 929

Member #11268
Quote:
Originally Posted by
Ponchopwr70
Be careful with those qa1s mounted horizontal, they are twin tube and are supposed to be vertical, Iíve seen one broken on the Facebook page being used as a kicker.
There is no functional issue with utilizing the QA-1 as a horizontal shock. The ONE example you stated most likely had a secondary issue that induced a failure. Like improper installation or another suspension issue.
Unless you a purely drag racing the truck and do not take street / track handling into consideration, these trucks do not need Cal-Trac's.
Cheers
__________________
2005 Black RC Born on April, 22nd., 16th hour of 2005: BBK, JTSVP Gen II Shifter, JTSVP Under Drive Pulley, K&N Drop-In, Demon Coils, B&B Manifold Back Exhaust w/ Hi flow Cats, SCT Tuned by Torrie, RX Monster Catch Can, JMB QA1 "kicker" shock, Polyurethane Suspension / Sway bar Bushings, AEM Wideband, Raptor Shift Light, Dynamat Interior, JTSVP Oil Cooler lines, 70/30 DiH2O/Dexcool Mix w/ Water Wetter, ALL fluids Synthetic and a few "sneaky" aero mods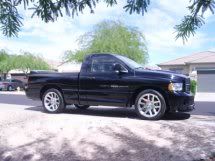 2000 ZX1270R, 200 H.P. / 111 Ft. Lbs.